Build Wealth
Invest in multifamily real estate.
Join in our vision and success.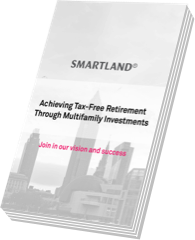 Achieving Tax-Free Retirement Through Multifamily Investments
Income taxes will drastically rise in the coming years, making it difficult to make ends meet when you retire. Learn how investing in residential apartment buildings today can help position you for a 0% income tax retirement.
Achieving Tax-Free Retirement Through Multifamily Investments
"*" indicates required fields
BUY AND HOLD
Multifamily real estate for multi-generational wealth
Smartland has consistently delivered outsized returns to our investors while substantially reducing risk by investing in real estate, improving, refinancing, and holding. Discover how we build wealth for you by returning invested capital while continuing to pay dividends >>
SMARTLAND DIFFERENCE
Relentlessly finding value others can't see
Constantly seeking ways to uncover hidden value keeps us one step ahead of our competition. We always strive to be better than the next real estate investment company and little by little we find opportunities in assets that others do not. Find out more about our secret sauce to delivering outsized returns>>
01
Uncovering hidden value
Although most of our building purchases are already on the market, we see ways of extracting value that other, traditional investors do not.
02
Renovation
We like to find buildings that require a 'heavy lift' during the renovations process. We go beyond just paint, carpet, and a revamped kitchen and baths; we install state of the art Class-A technology to every building to totally WOW our residents.
03
Higher rents, longer leases
By exceeding expectations and offering better value to residents than all the surrounding competitor buildings, we command higher rents, longer leases, lower turnover, and more lease renewals.
04
Return of Capital
We underwrite every building so we can increase value and refinance within 5 years, returning all investor capital while leaving them with their share of the building. This is true real estate partnership – you stay in the deal with us to earn passive, even though your investment has been returned.
05
Hold forever
Real estate investing is a long game and that's how we play it. We buy, add value, refinance, and hold for the long run, avoiding the cost friction of exchanges, while building wealth for ourselves, our partners, and for future generations.
Partners
Meet Our Team
Exceptional professionalism and a team that shares a common vision. We combine decades of experience of investing in multifamily real estate together with the application of cutting-edge technology to add value to our corporate workflows as well as to our investments.