Nearly 20 years ago, writers at the Samuel Zell & Robert Lurie Real Estate Center at the Wharton University of Pennsylvania published a working paper describing the future impact of technology on commercial real estate. The authors correctly predicted that the growth of technology would adversely impact many retail assets and that commercial real estate would not decline in value or demand.
Looking around at the commercial real estate business today, it is easy to wonder if the writers had a crystal ball. In this article, we will take an in-depth look at how the impact of technology on real estate is acting as a positive catalyst for change, creating new opportunities for the savvy real estate investor.
What is The Impact of Technology on Commercial Real Estate?
Telecommuting
Several changes are affecting how tenants utilize space and how commercial real estate transactions are being completed. Of course, the pandemic has compelled more people to work from home and spend less time in the office.
But even before Covid-19, the idea of one space per employee was morphing into a more flexible use of space and time.
Today, companies are increasingly choosing to locate where their employees live instead of the central business district of highly dense urban cities.
Secondary markets in the Midwest and Sunbelt states see a growing demand for commercial real estate as owners and users seek higher returns and more affordable places to live and do business.
Companies are increasingly choosing to locate where their employees live instead of the central business district of highly dense urban cities.
Commercial real estate brokers are using virtual tours, video calls on Zoom or Skype, project management tools such as Slack to show property and communicate with team members.
Providing More Access and Visualization
The ongoing shift to telecommuting is made possible in large part by wireless technologies such as 5G (fifth-generation wireless).
As an article from the CCIM Institute explains, 5G allows cellular networks to accommodate more users at significantly higher data speeds, opening the door to new applications such as virtual reality, super-fast data transmission, and higher-spectrum coverage inside and outside of buildings that will benefit commercial real estate practitioners, landlords, and tenants.
Technology platforms enable the remote showcasing of a property and facilitate the handling of proposals and contracts entirely online. Tenants – especially millennials and Gen Z renters – grew up using mobile devices, and the availability of cutting-edge technologies will likely influence where people live and work in the future.
Artificial Intelligence
Known as the father of AI, John McCarthy coined the term "artificial intelligence" back in the mid-1950s. He founded an AI laboratory while at Stanford University, worked on early versions of a self-driving car, and created the standard programming language used in robotics and in countless internet-based services.
Recently, a large survey of machine learning researchers predicted that in the next ten years, AI will outperform humans in many activities, such as translating languages or working as a surgeon. While we may not be at the point just yet, AI is having a positive impact on the commercial real estate industry today.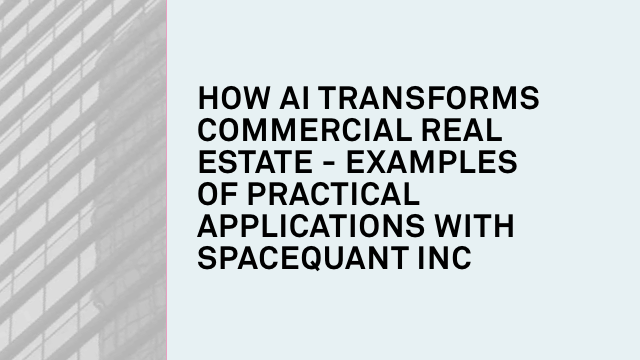 For instance, state-of-the-art property technologies (proptech) utilize artificial intelligence to assess building functions and management systems, such as HVAC and lighting, and optimize property management.
Multifamily investors and tenants are two of the groups that benefit from AI by reducing operating expenses and keeping tenant satisfaction and lease renewals high.
Saving Time and Money
AI also saves commercial real estate brokers time and money. Machine learning technology can be used to track market movements and leasing activity on a macro level to help brokers and investors seize opportunities and maintain a competitive edge.
In the multifamily industry, AI is actually helping onsite staff to lease apartments. A recent report from the National Apartment Association (NAA) reveals that artificial intelligence is helping leasing agents to know which prospects will lease an apartment before even the prospect knows.
AI-powered leasing apps such as Funnel bring the best technology into multifamily by automating the entire leasing funnel from start to finish and converting leads into residents.
LetHub is another tool that uses machine learning to decrease leasing times by answering inquiries, booking tours directly to a leasing agent's calendar, and gathering prospect information for follow-up and feedback. After the tenant moves in, the app then uses AI to automate maintenance requests to help keep occupancy levels high and tenant turnover low.
Updated Infrastructure
IoT (internet of things) technology is adding value to real estate companies by enhancing property performance and helping building owners to reimagine the tenant experience.
The Internet of Things in the CRE Industry research report from the Deloitte Center for Financial Services describes how IoT goes far beyond motion-sensor lighting. Building management systems use IoT to increase the efficiency of building performance while gathering sensor-generated data to enhance the tenant experience and improve the financial performance of commercial real estate investments.
Sensors can potentially turn any object into a source of information that property managers and investors can use to differentiate services and property. Data passes through each stage of an information value loop – acting, creating, communicating, aggregating, and analyzing – with AI and augmented intelligence technologies used to enable automated action or influencing human decisions for both the landlord and the tenant.
Investors and tenants in all types of commercial real estate – office, retail, industrial, and multifamily – are benefiting from AI, IoT, as well as machine learning. Building owners and properties that keep pace with today's constantly changing property technologies will continue to add value, while outdated properties may quickly become obsolete.
Creating Greater Portfolio Visibility
The IoT report from Deloitte also notes that commercial real estate investors who apply enhanced tracking and monitoring at a building and portfolio level, along with portfolio analytics, are able to lower asset risk and enhance portfolio management capabilities.
For example, by tracking the flow of people throughout a property (while respecting privacy rights), ownership can gain a better understanding of behavior and space usage patterns. One can then use this data to identify excess capacity during all day-parts, which can result in greater portfolio visibility and improved portfolio management.
IoT infrastructure offers common benefits to all property types, including lower operating costs such as reduced energy consumption, improved health and productivity benefits for occupiers and guests, and better security through real-time surveillance and immediate emergency response systems.
Looking at the multifamily asset class in particular, IoT service innovation opportunities include improved space design and tenant experience by using data insights and preemptive maintenance and automated maintenance request management through IoT-enabled appliances and systems.
Multifamily investors and tenants are two of the groups that benefit from AI
by reducing operating expenses
and keeping tenant satisfaction and lease renewals high.
The internet of things in an apartment property can be used to:
Know the tenant by tracking preferences and habits.
Provide a customized tenant experience for greater convenience and ease of living.
Empower tenants by providing remote access and usage tracking of their home systems.
Increase security with real-time monitoring and advanced notification of system failures.
Save money for tenants by customizing automation to help reduce utility costs.
Related: Investing in Real Estate Properties: The Ultimate Guide
E-Commerce as a Commercial Real Estate Disruptor
Even before the pandemic, e-commerce was disrupting the commercial real estate industry. Over five years ago, the Federal Reserve Bank of Atlanta listed e-commerce as one of the major market disruptors in commercial real estate.
According to the report, as retail sales began to move out of brick-and-mortar shops and onto internet shopping platforms, the demand for traditional retail storefronts and mall space has fallen. Bankruptcies and store closures are predicted to continue this year, although restaurants offering take-out and grocery and convenience stores should show aggressive growth.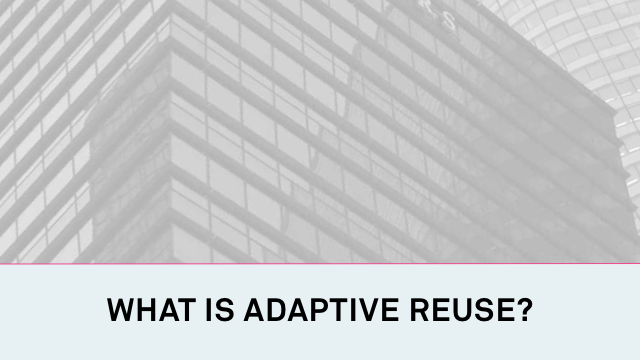 Opportunistic and value add real estate investors may find opportunities in the adaptive reuse and conversion of Class B and Class C shopping centers that have been hurt the most with failing anchor tenants propelling the closure of smaller mom-and-pop co-tenants.
With many older malls becoming obsolete, they are prime candidates for conversion from retail to industrial, mixed-use office and hotel components, and adaptive reuse to multifamily projects.
In all cases, successful adaptive reuse and conversion of retail assets to a higher and better use requires overcoming regulatory issues, greater flexibility in zoning, and the integration of technology throughout the redevelopment project to achieve greater operating efficiencies and cash flows.
Privacy and Cybersecurity
The Counselors of Real Estate (CRE) is an international organization comprised of high-profile commercial real estate practitioners, legal and advisory firms, and recognized leaders of government and academia. CRE notes that any property owner or tenant who deals with large amounts of data is vulnerable to various attacks at any time of the day or night.
For example, some smart meters can be hacked to access the building information system, giving predators access to countless amounts of data on the building operations and tenants. Free wireless access can be used as a conduit for stealing credit card information from the point of sale systems in stores.
Unsuspecting employees can be hooked by phishing scams and fooled into giving away user identifications and passwords, giving thieves access to corporate databases containing personally identifiable information.
Fortunately, there are several steps commercial real estate practitioners can take to ensure that data is secure within their firms and the properties under management:
Conduct a security audit on existing processes to focus on vulnerabilities inside and outside of the organization, including simple procedures such as shredding documents or deleting electronic trash.
Interview third-party vendors to learn their security procedures regarding key documents exchanged with them, such as sending and receiving lease information or financial information.
Educate employees on what sensitive information is and how to handle it, both in terms of protecting proprietary data from outside access and ensuring only co-workers with a need-to-know see the data when completing a task or project.
While many commercial real estate firms have a Chief Information Security Officer (CISO) on staff, it's important to recognize that cybersecurity is everyone's job and should be part of the company culture.
Once privacy and cybersecurity issues have been addressed, commercial real estate brokers should work on increasing their online exposure, digital presence, and availability.
Increasing Exposure
Compared to residential real estate agents, commercial brokers generally fall behind when it comes to increasing exposure online. Although social media is often viewed as a way to reach the general consumer, the truth is that social media and online marketing can be very effective methods for connecting with prospective clients and growing a commercial real estate business.
Good ways to increase the flow of leads to your commercial real estate website include developing an internet marketing campaign with articles, blogs, videos, audios, and case studies.
For example, articles and blogs can be published weekly (if not more frequently) with information on macro market trends, the growing appeal of suburban and secondary cities, recent transactions in the individual submarket, or why an asset class like multifamily property is one of the best performing investments before, during, and after the pandemic.
Videos can feature a commercial property listed for sale or lease or an interview with a satisfied client or thought leader within the brokerage. Audio podcasts can cover property trends and investment ideas.
With enough time and effort, your commercial real estate podcast will quickly become as popular as America's Commercial Real Estate Show, the PropTech Podcast for tech-savvy commercial real estate practitioners, and the BiggerPockets podcast offering actionable and attainable advice for all CRE brokers.
Increasing Digital Presence and Availability
Commercial real estate brokers and investors have countless tools available to increase availability and expand a digital presence.
Some of the best commercial real estate marketing tools include:
Social media sites such as Facebook, LinkedIn, YouTube, Instagram, Pinterest, Twitter, and Reddit
Webinar tools such as YouTube Live, Facebook Live, Instagram Live, and Vimeo Livestream
Quora is a question and answer website with several CRE-specific threads
Medium for original user-generated long-form written content
Buildout to power marketing and brokerage operations
REthink for prospect and deal pipeline management
SharpLaunch for custom interactive maps, document portals, and email marketing
RealHound to connect prospects with properties
Commercial real estate listing platforms such as CoStar, LoopNet, CREXi, Commercial Search, and Brevitas
Final Thoughts
The impact of technology on commercial real estate is all-encompassing. Artificial intelligence, machine learning, and the Internet of Things is acting as a catalyst for change. Property owners are updating infrastructure, redesigning workspaces, and overhauling business models to become more competitive in the local marketplace.
Both tenants and co-investors are demanding more, and commercial real estate firms who embrace technology have the opportunity to re-think how the business is operated and extract value in a way that traditional investors are unable to do.
Interested in learning about how Smartland invests? Get in touch with us today to see why investors of all types are investing with Smartland!